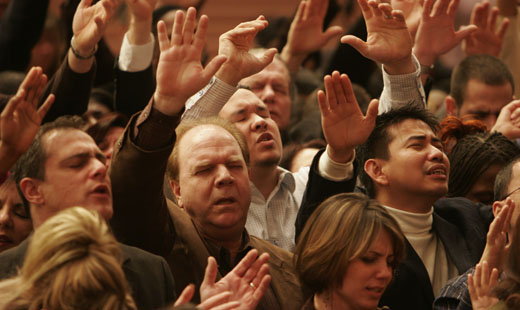 Does it matter how we worship God? Do we need to be told how to worship God? Apparently, it does matter how we worship God.
  "God is a Spirit; and they that worship him must worship him in spirit and in truth." John 4:22-24 KJV
Did you know that the very first murder was the result of wrong worship? It's true. It's in the 4th chapter of Genesis. Cain and Abel were brothers, the sons of our first parents, Adam and Eve. Abel was a keeper of the sheep, while Cain was a gardener. For their worship, Cain offered to God the fruit from his garden, while Abel offered a firstborn of his sheep. God accepted Abel's offering and rejected Cain's which resulted in Cain's jealousy and led to his  murder of his brother, Abel.
Why was Abel's worship offering  accepted and Cain's rejected?  Hebrews 11:4 explains that Abel's offering was accepted and testified that he was righteous. It has been understood that Cain's offering was rejected because it did not include a blood sacrifice.
Although, not made known to us in Genesis; we get a glimpse of what God required for worship. God was specific, as he gave Moses the instructions for worship that included  blood sacrifice for making atonement. See the 17 chapter of Leviticus, specifically, verse 11. God further tells Moses to tell the people of Israel:
"You shall follow my rules and keep my statutes and walk in them. I am the LORD your God." Leviticus 18:4
On another occasion, God showed his displeasure with Nadab and Abihu by consuming them with fire because they offered strange fire unto the LORD, which was not commanded.  See Leviticus 10:1-2.
Since we are now under the New Covenant, what does God expect in our worship? Are we at liberty to form our own ideas for worship? Nadab and Abihu should be our caution. They did what God did not command.
What's the command for worship? We saw above that Jesus says that we must worship in spirit and in truth. Are there any other prescriptives for how we should worship? The New Testament primarily describes worship service as preaching, praying and a couple of occasions singing of psalms, hymns and spiritual songs is mentioned. However, as I heard from Pastor Gary Hendrix on his excellent sermon: Perspective On Worship Music, we can look to the Psalms because God doesn't change.
If we were to look at the Psalms and walk through, here is some of what we find:
"I will be glad and rejoice in thee: I will sing praise to thy name, O thou most High." Psalm 9:2
"Rejoice in the Lord, O ye righteous: for praise is comely for the upright. 2 Praise the LORD with harp: sing unto him with the psaltery and an instrument of ten strings. 3 Sing unto him a new song: play skillfully with a loud noise." Psalm 33:1-3
"Clap your hands, all peoples! Shout to God with loud songs of joy! For the LORD, the Most High, is to be feared, a great king over all the earth." Psalm 47:1-2
"Sing aloud to God our strength; make a joyful noise unto the God of Jacob! 2 Raise a song; sound the tambourine, the sweet lyre with the harp." Psalm 81:1-2 ESV
"Oh come, let us sing unto the LORD: let us make a joyful noise to the rock of our salvation.!2 Let us come before his presence with thanksgiving; let us make a joyful noise to him with songs of praise!." Psalm 95:1-2 ESV
"With trumpets and the sound of the horn make a joyful noise before the King, the LORD! Psalm 98:6
"Praise the Lord! Praise God in his sanctuary; praise him in his mighty heavens! 2 Praise him for his mighty deeds; praise him according to his excellent greatness! 3 Praise him with trumpet sound; praise him with lute and harp! 4 Praise him with tambourine and dance; praise him with strings and pipe! 5 Praise him with sounding cymbals; praise him with loud clashing cymbals! 6 Let everything that has breath praise the LORD! Praise the LORD! Psalm 150 ESV
I know that there is a fear of being without restraint, and we want our praise to be dignified, but what about King David? Remember when David retrieved the Ark of the Covenant, how David danced before the Lord with all his might, almost dancing out of his clothes? See II Samuel 6:12-23. David responds to his wife, Michal, who despised him for his dance, that he is willing to be even more undignified than this.
Dr. Martyn Lloyd Jones describes this fear as the "fear of enthusiasm" in his book Authority, in his chapter on The Authority of the Holy Spirit. He says that this fear is from a horror of excesses. He further states:
"Many have become so horrified at the thought of excesses and have allowed themselves to be driven so far to the other extreme, that they are undoubtedly guilty of quenching and grieving the Spirit."
He says that this fear of enthusiasm is not new. Both John Wesley and George Whitefield were accused of being "enthusiasts" two hundred years ago, which didn't bother them at all. But the modern Christian, says is horrified of being accused of such. Dr. Jones says this all boils down to pride.
So am I suggesting that we all dance like David? Not necessarily. (I certainly have not.) But I believe that our hearts should be engaged when we worship. In fact, Jesus tells the Pharisees and scribes:
"This people honor me with their lips, but their hearts are far from me." Matthew 15:8 ESV
I primarily am writing this because I fear there are some of us in Reformed churches who do have a fear of enthusiasm, and maybe knowingly or unknowingly hold to the position of Michal who despise David's dancing versus David's free expression of praise.
Remember David's dance was specifically based on what God had done. He was praising God for his work, in granting them the return of the Ark of the Covenant. To David, that was praise worthy.
I am going to close this post with the link to  Read "Doxology Intro" by Shai Linne .